von Sarah Weinberg | 19. April 2023

Enter Shikari zählen ohne Zweifel zu einer der facettenreichsten und energiegeladensten Bands unserer Zeit. Mit ihrem siebten Studioalbum "A Kiss For The Whole World", das am 21. April 2023 via SO Recordings / Ambush Reality erscheint, präsentieren die vier Engländer aus St. Albans erneut ihre musikalische Vielfalt - sowohl lyrisch als auch instrumental. Poduziert wurde die Platte von Sänger Rou Reynolds im Frühjahr 2022 in einem abgelegenen Bauernhaus in Chichester, einer Stadt im Süden Englands. Für die Produktion wurde ausschließlich Solarenergie genutzt.
Die Singleauskopplungen "(pls) set me on fire", "It Hurts" und "Bloodshot" haben den Hörer:innen einen vielversprechenden Vorgeschmack auf die Platte gegeben – mit Band-typischen Sounds und Vocals, die Lust auf mehr machten. Aber was sind Band-typische Sounds bei Enter Shikari eigentlich? Bei der Band, die so viele Genres vereint, in keine musikalische Schublade passt und eine scheinbar unermüdliche künstlerische Kreativität in sich trägt? Vielleicht ist es gerade das.
Die Tatsache, dass Enter Shikari in keine Schublade passen, macht sie zu einem ausgesprochen interessanten Act. Es ist kein Geheimnis, dass Menschen andere Menschen, Ereignisse oder auch Musik in Schubladen einordnen wollen, das liegt wohl in unserer Natur. Enter Shikari trotzen diesem Klischee, vereinen seit Jahren verschiedenste Genres und schaffen dadurch ein neues Genre – nämlich ihr Eigenes. Die Band hat es geschafft, ihre eigene musikalische Identität zu kreieren. "A Kiss For The Whole World" beweist dies nun erneut eindrucksvoll.
---
"It's quite the buzz to be able to say that all the tracking on this album was powered by the sun. [...] It really kept you grounded because you couldn't record a guitar part and boil the kettle at the same time. A lot of planning had to go into each day."
– Rou Reynolds
---
Der erste Track der Platte, der Titeltrack "A Kiss For The Whole World x", fackelt nicht lange herum. Eingeleitet von einem Fanfaren-artigen Intro geht es schnell zur Sache. Bläser, intensive Drums, Gitarrenriffs und eine eingängige Melodie eröffnen das neue Enter Shikari Album. Mit einem sauberen Übergang geht es dann weiter mit einer der Singles, "(pls) set me on fire". Stichwort Übergänge – auch dieses Thema ist ein Teil der Enter Shikari Identität. Wie auch auf dem vergangenen Album "Nothing is True & Everything Is Possible" (VÖ: 2020) beginnen und enden viele Songs auf "A Kiss For The Whole World" nicht abrupt, sondern fließen ineinander über.
Die bei Enter Shikari mittlerweile bekannten Synthesizer Elemente finden sich auch auf dem neuen Album wieder. "Leap into the lightning" bietet sowohl rockige Gitarrenriffs als auch Sprechgesang, eingängige Hooks und intensive elektronische Parts. Der nachfolgende Track "feed yøur søul" wirkt wie ein elektronisches Outro des Vorgängers, greift einzelne Zitate aus "Leap into the lightning" auf und ist mit Sounds unterlegt, die im Kopf das Bild eines Laserschwerts malen.
Der wohl im Verlauf spannendste Song der Platte ist "Dead Wood". Rous Stimme wird in der ersten Strophe von Streichinstrumenten untermalt, zu Beginn könnte man fast von einer Ballade ausgehen. Zur Mitte des Tracks setzt allerdings der Spannungsbogen ein, der auf einen anderen Songverlauf schließen lässt. Es folgt erneut eine kurze, ruhige Sequenz, bevor Rous Stimme - nun elektronisch untermalt - von treibenden Drums zu einem "Grand Finale" getragen wird. Der Song, der anfangs noch so still wirkte, hat sich binnen weniger Sekunden zu einer Stadionhymne entwickelt – ganz im Enter Shikari Stil.
"goldfĭsh ~" kombiniert harte und teilweise mystisch wirkende Sounds mit klaren, melodischen Parts und lässt mit dem Refrain "You are under my control. You are a goldfish, I am the bowl" Platz für Interpretation, denn auch Metapher sind Enter Shikari nicht fremd und ein wichtiger Bestandteil des Songwritings.
---
"There wasn't a sudden explosion or a grand plan when it came to making an album. [...] It was more a case of, 'Oh, music's coming – oh great! – now grab a pen, and grab a guitar!'" 
– Rou Reynolds
---
Enter Shikari machen kein Geheimnis daraus, dass sie sich mit persönlichen Ansichten, Sorgen und Haltungen zu gesellschaftlichen und politischen Themen in ihren Songs auseinandersetzen. So zeigt die Band seit Jahren deutlich, dass ihnen Klimaschutz und die Rettung unseres Planeten am Herzen liegt. Von Bühnenbildern bis hin zu Essays und Lyrics – Rou, Chris, Rob und Rory verarbeiten auf künstlerische Art und Weise die Hürden unserer Zeit.
Auch auf "A Kiss For The Whole World" fängt die Band aktuelle Themen ein: Natur, Mental Health, soziale Medien. Wer glaubt, dass sich so viel kritische Auseinandersetzung negativ auf die Musik und das Hörerlebnis auswirkt, liegt falsch. Enter Shikari lassen auch bei den vermeintlich aussichtslosesten Themen den Funken Hoffnung niemals erlöschen. Vielmehr wirken die Songs und Alben als Gesamtwerk wie ein Hoffnungsträger, der den Hörer:innen aufzeigt, wo die Wurzeln vieler Probleme liegen und wie wir Lösungen finden können.
Enter Shikaris neues Album "A Kiss For The Whole World" ist ein wilder Ritt durch verschiedenste Genres und Themen. Der Mix aus Post-Hardcore, Alternative und Rock gepaart mit elektronischen und klassischen Elementen wird von der Band erneut auf ein hohes Level gesetzt und sprengt nicht nur Genregrenzen, sondern auch jegliche Vorstellungskraft während des Hörens. Die Kreativität und Ernsthaftigkeit, mit der sich Rou, Chris, Rob und Rory ihrer Musik widmen, verdient höchsten Respekt. Und sobald die Band im kommenden Sommer wieder die Festival- und Konzertbühnen betritt, werden die neuen Songs sicherlich auf begeistertes Publikum treffen und den wilden musikalischen Ritt in staubige Moshpits und laute Chöre verwandeln.
---
1. A Kiss For The Whole World x
2. (pls) set me on fire
3. It Hurts
4. Leap into the Lightning
5. feed yøur søul
6. Dead Wood
7. Jailbreak
8. Bloodshot
9. Bloodshot (Coda)
10. goldfĭsh ~
11. Giant Pacific Octopus (i don't know you anymore)
12. giant pacific octopus swirling off into infinity…
Label: SO Recordings / Ambush Reality
Veröffentlichung: 21.04.2023
A Kiss For The Whole World | It Hurts | Dead Wood | goldfĭsh ~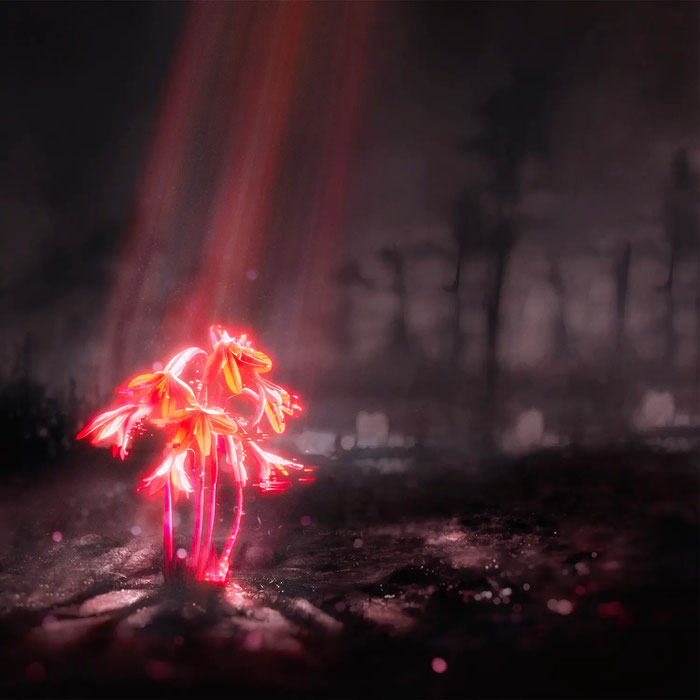 ---