Royal Republic... ach, das sind doch diese verrückten Schweden mit dem "Underwear" Song... und "Tommy-Gun", richtig? Richtig, das sind Royal Republic. Nach ihrem Debütalbum "We Are The Royal" im Jahr 2010 ging es für die vier Jungs aus Malmö steil bergauf. Kaum eine Rockband in dieser Zeit überraschte so wie Royal Republic es getan haben. Purer, schneller Rock und pfiffige Texte machten die Schweden zu einem der interessantesten Acts aus Skandinavien. Es dauerte nicht lang, bis sie die Festivalbühnen Europas erklommen und die Mengen mit einer ordentlichen Portion Rock und Punk in ihren Bann zogen.
---
Über die Jahre wuchsen Frontmann und Gitarrist Adam, Drummer Per, Gitarrist Hannes und Bassist Jonas immer wieder über sich hinaus und feierten mit Save The Nation (2012), Royal Republic and the Nosebreakers (Akustik-EP, 2014) und Weekend Man (2016) unzählige Erfolge: ausverkaufte Headlinetouren und Auftritte bei Europas größten Festivals. Zudem blicken Royal Republic bereits auf Support-Touren mit den Toten Hosen, blink-182, The Subways und Social Distortion zurück.
Neun Jahre nach ihrem Debüt steht jetzt Royal Republics viertes Studioalbum in den Startlöchern. Mit "Club Majesty" setzt die Band einen weiteren Meilenstein in ihrer Karriere und bricht die Erwartungen, die in den letzten Jahren über ihrem Namen schwebten. Royal Republic sind keine Fans von Schubladendenken und festgesetzten Genres in der Musikwelt.
Für ihr neues Album haben sie sich keine Grenzen gesetzt. Sie haben das getan, auf was sie Bock haben – gute Musik produzieren. Unabhängig von sämtlichen Labels, die ihnen in der Vergangenheit zugeordnet wurden. Club Majesty kommt frech um die Ecke und vereint den gewohnten Royal Republic Pfiff mit frischen Sounds. Diese frischen Sounds sind allerdings nicht mit einem einzigen Wort oder Satz zu umschreiben. Die Platte bewegt sich irgendwo zwischen zwischen Disco-Tanzfläche, Roadtrip und Moshpit. Klar, Royal Republic sind bekannt für ihren feinen Rock'n'Roll – doch die Jungs wollen mehr als nur das.
---
Frontmann Adam Grahn sagt zur Platte: "I love the word 'disco'. (…) Some people will say 'but you're a rock band!' .We're a band. I never knew what to call us."
---
Der Rock'n'Roll war der Beginn von Royal Republics beachtlicher Karriere – nun ist der Zeitpunkt gekommen, an dem die Band reinen Tisch macht und der Musikwelt präsentiert, welche Musik sie bewegt und inspiriert. Club Majesty ist groovy, funky, boogie – ein wenig Glitzer, ein wenig Rock'n'Roll. Und ganz viel Disco.
Keines der bisherigen Alben der Schweden war so breitgefächert und abwechslungsreich wie Club Majesty – und vielleicht ist diese Platte auch die ehrlichste von allen. Mit den Singles "Fireman & Dancer" und "Boomerang" präsentierte die Band vorab schon zwei absolute Kracher. Schnell, tanzbar, wild – egal ob auf der Tanzfläche oder im großen Festival-Moshpit.
Das Disco-Fieber und die späten 70er klopfen an der Tür – und "Can't Fight The Disco" macht dankbar auf. Der Song ist mehr oder weniger das Motto dieser Platte. Denn egal wie sehr man sich bemüht, man bekommt die Disco eben nicht aus dem Blut der vier Royals. "I don't want my world in black and white – I need color in my life". Und das ist auch gut so.
Huch, was macht denn Elvis auf einmal auf Royal Republics Album? Ach so, das ist gar nicht Elvis - das ist Rock'n'Roll Röhre Adam Grahn persönlich. Aber der Song ist doch Soundtrack eines Tarantino Films? Auch falsch. Aber verdammt nah dran. Tarantino könnte bei diesem Song gewiss nicht Nein sagen. Denn "Blunt Force Trauma" erinnert an Elvis' Comeback 1968 und schreit förmlich nach einem actiongeladenen Filmkracher mit Adam, Per, Hannes und Jonas als supercoole Geheimagenten in den Hauptrollen.
---
Adam Grahn erzählt weiter: "We're, like, nerds. And we always tried to hide it a little bit. It was always a case of 'this isn't rock and roll', and we were like 'yeah, but we can sing four-part harmonies, and we can do all these things that your average guitar rock band may not be able to pull off. So what are we so afraid of? Let's buy those fucking golden sequin jackets and get bouncy!"
---
"Flower Power Madness" ist ein Disco-Kracher, bei dem wirklich niemand stillsitzen kann. Funky Gitarre und knackiger Bass – mehr muss man nicht sagen. Adam Grahns Stimme trägt den Song in noch unerforschte Sphären – und spätestens jetzt wird klar: er ist ein verdammt talentierter Sänger.
Der Refrain von "Anna Leigh" klingt, als wäre dieser Song schon seit Jahrzehnten in den internationalen Hitparaden zuhause. Wahnsinnig stimmige Harmonien geben diesem Song eine ganz besonders melancholische und magische Note. Insgesamt ist Anna Leigh ein Funk-Pop-Mix und vereint Elemente von Earth, Wind & Fire und Toto.
Der letzte Song des Albums erinnert noch einmal kurz daran, welche Band man sich da jetzt eigentlich anhört. Ach ja, Royal Republic. "Bulldog" ist simpel und voll auf die zwölf. So wie man die Schweden bis jetzt kannte.
Die Jungs gehen in der Zeit zurück, lassen sich von ihren Lieblingsbands inspirieren, denken nicht lange nach und spielen einfach drauf los. Dass das so extrem authentisch und spaßig klingt, liegt daran, dass Royal Republic eben mehr drauf haben, als ununterbrochen Gitarren zu schrammeln und ins Mikrofon zu schreien.
---
Club Majesty ist retro und innovativ. Es lädt zum frechen Hüftschwung und zum Mitrocken ein. Egal ob man also Rocker, Pop-Liebhaber oder Disco-Funk-Fan ist: Royal Republic vereint all dies und zündet mit Club Majesty ein wahres Crossover-Feuerwerk.
---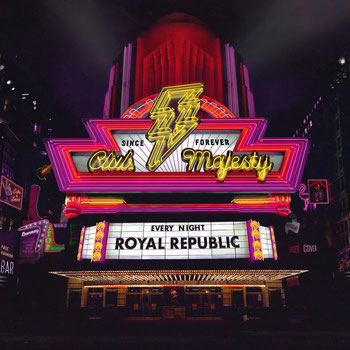 TRACKLIST
1. Fireman & Dancer
2. Can't Fight The Disco
3.  Boomerang
4. Under Cover
5. Like A Lover
6. Blunt Force Trauma
7. Fortune Favors
8. Flower Power Madness
9. Stop Movin'
10. Anna-Leigh
11. Bulldog
---